Details

Written by

UpsNDowns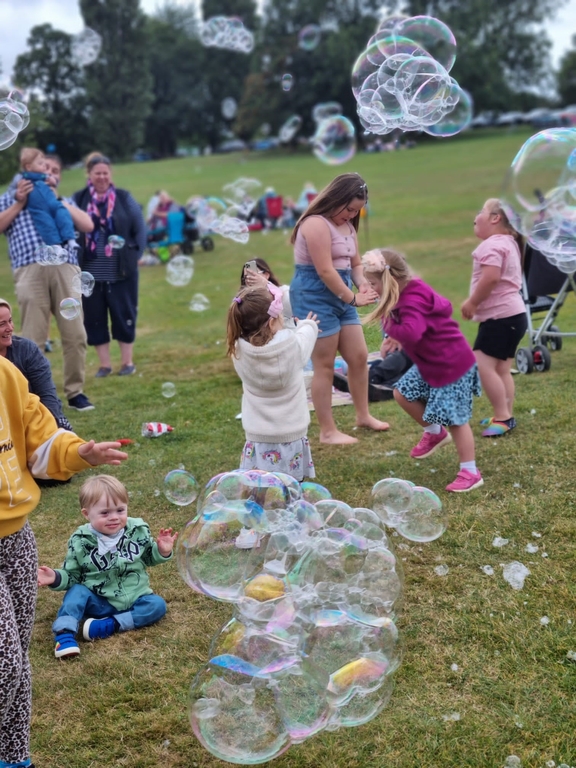 Last month, our UpsnDowns Summer Social 2021 took place at Wicksteed Park, Kettering, home to our annual UpsnDowns Charity Dinner.
Lots of families, including some new faces, joined in the fun at Wicksteed. It has been a very long time since we were able to get together face to face, and we certainly made the most of it.
Families met up at the park and enjoyed a picnic together, followed by an hour of crazy bubble-mania with our wonderful drama teacher, Karen Harvey. The children loved it as you can see from the photos!
Everyone was issued with park bands to enable them to enjoy the rides and the animals, if they wanted too.
Despite the weather being slightly chilly (typical August), everyone had a brilliant time. All children left with a goody bag containing a teddy, a hat, a fidget popper, biscuits, and sweets.
Thanks goes to Donna McAvoy and Karen Smith for organising it all.
Special thanks go to Kim Good, Kinga Waksmundska and Louisa Digby who all trekked to the summit of Kinder Scout, raising lots of money for UpsnDowns so that we could organise and enjoy a charity day out.
We look forward to the next get together soon.
Details

Written by

UpsNDowns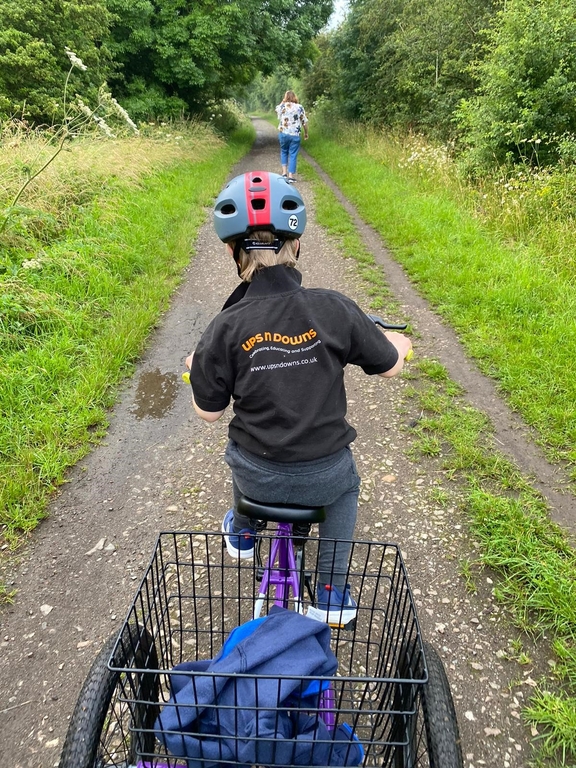 From the 9-18th July 2021, we invited cyclists to join our second virtual cycling sportif to support and fundraise for UpsnDowns. With last year's virtual sportif being such a huge success, the pressure was on!
With a lot of uncertainty surrounding Covid-19 restrictions and government guidelines, the sportif organisers opted to stick to the virtual format again this year, inviting individual cyclists, families and children to join us and cycle some miles for UpsnDowns.
The weather was very warm as was the competition against other cycling events taking place at the same time. However, we managed to raised a record-breaking £12,000 this year with 98 riders, some incredible fundraising and some very generous sponsors.
A special mention goes to the following people:
Charlie Cockburn and his family cycled 74 miles and raised £1200.
ATA Garryson employees cycled a combined 1400 miles raising over £1400.
Donna McAvoy, one of our parents, cycled 200 miles on her training bike. She has never cycled this far in her life, until now!
Steve Hunkin, another parent, raised £1140 and cycled 335 miles.
John Hewitt raised £1730 and cycled 359 miles.
Team Fighting Fit raised over £300.
Special thanks goes to our incredibly generous and loyal sponsors:
Steve Holliday, Ki-Tran, AFP Services, Higgins, Howdens, Snowdon Homes Ltd, ATA, Gibbs & Dandy, DCS, & Harlow Timber Systems.
The biggest 'thank you' goes to the wonderful Riding for UpsnDowns Committee, who dedicate many hours of their free time to organise this hugely successful annual fundraising event. We are eternally grateful for your support.
We look forward to 2022 when hopefully we can revert back to our one-day sportif, starting and finishing at the Earls Barton Cricket Club.
If this has inspired you to organise a fundraiser for UpsnDowns, please get in touch with This email address is being protected from spambots. You need JavaScript enabled to view it..
Details

Written by

UpsNDowns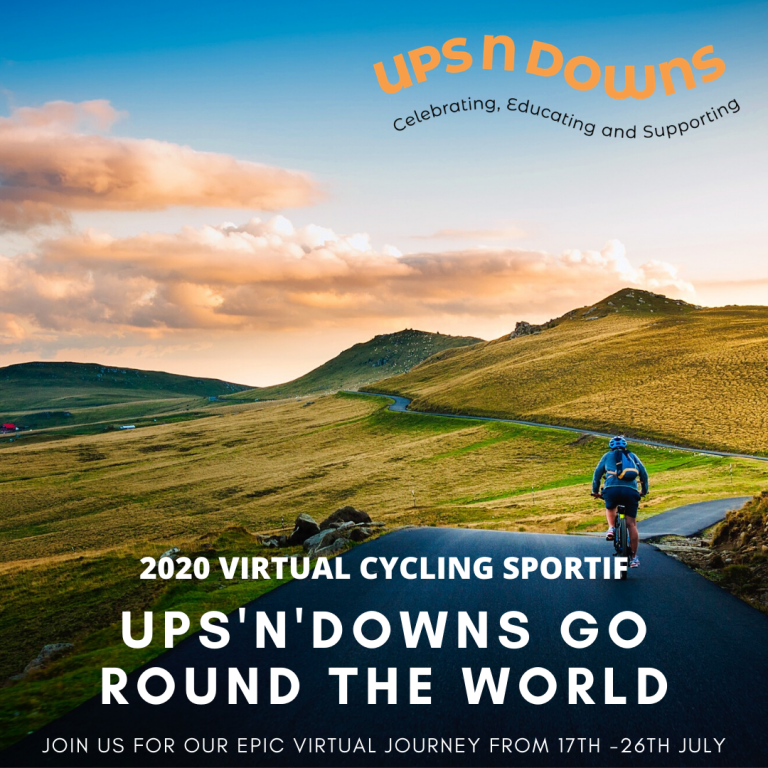 Sadly, our annual Riding for UpsnDowns cannot go ahead as planned this year due to Coronavirus. This is usually one of our biggest fundraisers of the year and particularly important for our charity.
This year, we have had to adapt our annual cycling sportif so that it can still go ahead.
We need your help from Friday 17th July to Sunday 26th July to take UpsnDowns 'around the world'.
We aim to build a team of cyclists who will join together this summer to ride around the world in 10 days. So whether you are out on the roads, on the MTB trials or at home on your rollers or turbo, we hope that you will join us over these 10 days and help us achieve this goal.
The more people that sign up, the more likely we are to make it around the world. In a year when the coronavirus pandemic has put pay to a majority of charity events, this is a great opportunity to support the charity's income which is wholly dependent on fundraising. Our events have usually taken place in the form of a group ride, with an incredible 160 riders taking part in 2019.
We will start our epic journey on Friday the 17th of July from a virtual Earls Barton and we will be travelling around the globe over the next 10 days around the 52nd parallel, hoping that we cycle enough miles to get back to Earls Barton on Sunday the 26th of July. We will go via Germany, Belarus, Ukraine, China, Russia, Alaska, British Columbia, Ontario, Ireland and Wales to name a few of the countries on our route.
This event is not only for keen cyclists, we would love lots of families to join in too.
If you would like to enter as a family, you can do so. All you need to do is to register once on UltraBritain and then upload daily miles onto Strava (app) as a group. The entry fee is £10 for an individual cycling alone or families.
Throughout the 10-day event we will be publishing the progress of 'miles cycled' each day on social media. We will be giving out various voucher prizes during the event (we have over £200 worth of vouchers), with individual prizes of upto £25.
Once registered, you will receive an email that gives you all the details on how to set up a JustGiving page for people to sponsor you.
Please note, we have changed our event to enable full support of the government's current guidance regarding Coronavirus. We would encourage everyone to ensure that they follow any government guidance in relation to recreational activities including cycling.
PLEASE SIGN UP HERE… https://www.ultrabritain.com/events/ups-and-downs/ups-n-downs-go-around-the-world
Details

Written by

UpsNDowns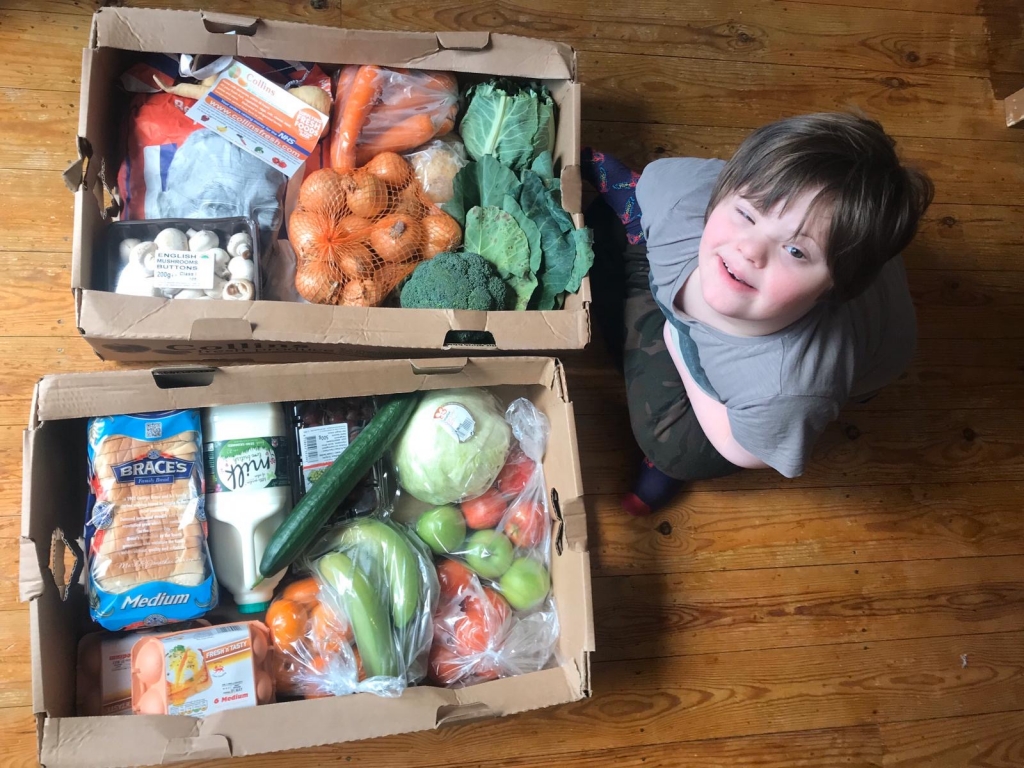 As the UK went into lockdown in March, all UpsnDowns trustees met to discuss how they could provide support to all the member families throughout Northamptonshire, many who are shielding children that are clinically extremely vulnerable and in isolation because of underlying medical conditions.
We recognised early on in lockdown that many UpsnDowns families would struggle to get online delivery slots or get out of the house safely to do their grocery shopping.
In April, the trustees agreed that all families would be offered a funded fresh produce box each week.
For the last 8 weeks we have used local supplier Collins Fresh (based in Northampton) to deliver weekly boxes to UpsnDowns families across the county. The boxes contain fresh fruit and vegetables, plus other essentials such as bread and milk.
Collins Fresh have been fantastic, and we are incredibly grateful that they waived their delivery charge for all the UpsnDowns boxes.
The fresh produce deliveries have been funded by UpsnDowns and with the help of a £3000 grant awarded to us from the National Emergencies Trust Coronavirus Appeal Programme, through the Northamptonshire Community Foundation.
We decided last week to continue delivering fresh produce for an additional 4 weeks.
Fiona Drinkell, mum to Christian (age 9) said, "When UpsnDowns contacted us to ask if we would like a fresh produce box delivered to our house every week, it was a godsend. It has helped more than they could ever imagine and has made sure we got plenty of healthy foodstuffs to keep us all on top form, we would have really struggled without it. We have no family close by to help so have been isolated on our own for nearly 10 weeks now."
All our member families have been so grateful for the support provided by UpsnDowns, and as a charity, we are eternally grateful to our amazing supporters and fundraisers. You have enabled us to provide much needed support to our families during the Coronavirus lockdown.
Members have been keen to share recipes and photos from their fresh produce boxes. We would love to take this opportunity to share with you a quick and easy recipe for blueberry pancakes. Enjoy!
American Blueberry Pancakes
Ingredients
200g self-raising flour
1 tsp baking powder
1 egg
300ml milk
knob butter
150g pack blueberry
sunflower oil or a little butter for cooking
golden or maple syrup
Instructions
Mix 200g self-raising flour, 1 tsp baking powder and a pinch of salt in a large bowl.
Beat 1 egg with 300ml milk, make a well in the centre of the dry ingredients and whisk in the milk to make a thick smooth batter.
Beat in a knob of melted butter, and gently stir in half of the 150g pack of blueberries.
Heat a teaspoon of sunflower oil or small knob of butter in a large non-stick frying pan.
Drop a large tablespoonful of the batter per pancake into the pan to make pancakes about 7.5cm across. Make three or four pancakes at a time.
Cook for about 3 minutes over a medium heat until small bubbles appear on the surface of each pancake, then turn and cook another 2-3 minutes until golden.
Cover with kitchen paper to keep warm while you use up the rest of the batter.
Serve with golden or maple syrup and the rest of the blueberries.
Details

Written by

UpsNDowns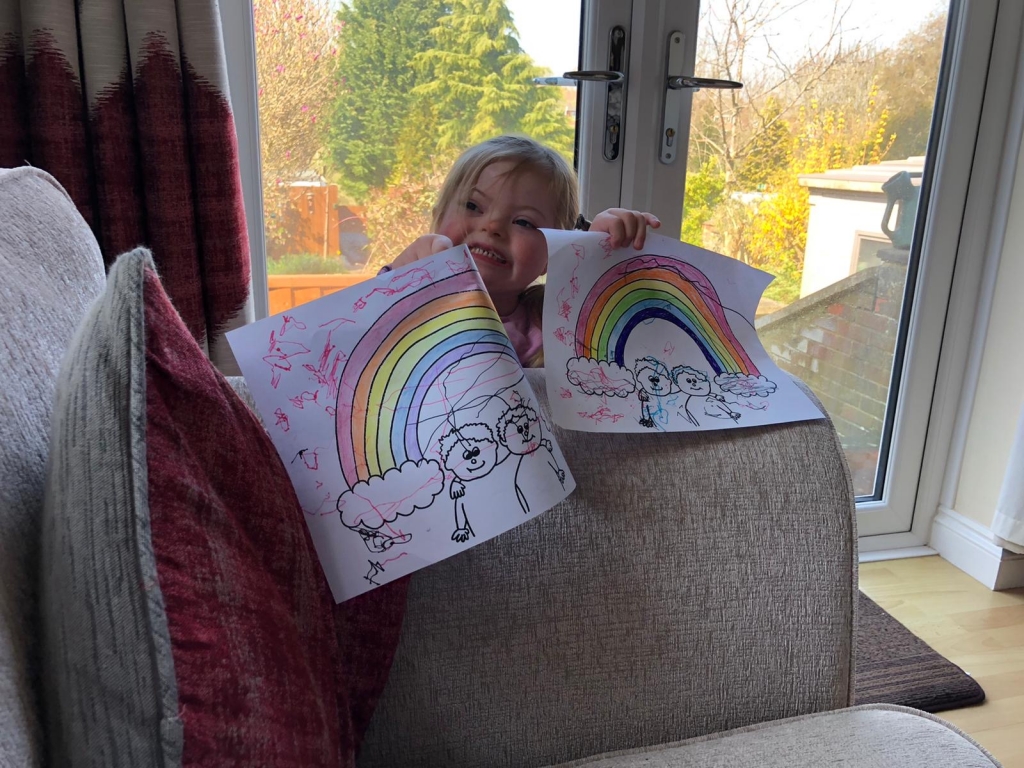 On 23rd March 2020, Boris Johnson announced the UK was going into an immediate 'lockdown' in an unprecedented step to limit the spread of Coronavirus (COVID-19). He announced that as a nation, we would only be able to leave our homes for the following reasons:

• Shopping for basic necessities
• One form of exercise a day - either alone or with members of your household
• Medical need or to provide care help vulnerable person
• Travel to work - but only if necessary and you cannot work from home

In addition to this, many of our members fall into a 'clinically extremely vulnerable' category. Some have pre-existing respiratory conditions, heart defects, immunodeficiency, and other complex conditions, and therefore have received government letters asking them to 'shield' at home, until the end of July. This situation is being regularly monitored. It has been, without a doubt, an incredibly tough and challenging time for everyone, but especially our members who are medically most vulnerable.

All parents are having to combine parenting roles alongside daily home learning. It is down to the parents now to provide a home routine that combines new learning, new skills, creativity and fun. At the same time, many parents are working remotely from home and caring for siblings. It is full on!

During this time, we have been keeping in regular contact with all our UpsnDowns families. In this time of additional financial and emotional strain, we have been supporting each other through a rota of weekly well-being phone calls. As a charity, we have provided funding for each family to purchase £100 worth of educational resources from DSE (Down's Syndrome Education International) or alternatively other sensory tools, games and learning kits. We have been funding the delivery of weekly fresh produce boxes to our Northamptonshire families, from local business Collins Produce. The feedback from our families has been wonderful.

During Lockdown, our SALT new programme has been suspended so we have run several online sessions for families to meet our new SALT therapists Melissa and Hayley. Over the coming weeks, they will be delivering further online therapy and training sessions to help to support our members.

We have loved seeing all the wonderful photos and videos from our families, sharing what they have been getting up to, at home, in the garden and out on their daily exercise. The support for each other has been amazing.
Whatever the 'new normal' is that we face once lockdown is lifted, we will be able to face it together. Together, we are stronger.
#stayhome #staysafe
Recent

Blog Posts
September 2021

August 2021

June 2020

May 2020

November 2019

April 2019

March 2019

February 2019

November 2017

October 2017

August 2017

April 2017

May 2016