Details

Written by

Upsndowns
As a Northamptonshire based Ironman triathlete I am taking on the challenge of my life by racing in the toughest foot race on the planet, as described by Discovery Channel, running 250km (156 miles) over six days across the Sahara Desert.
I am competing in The Marathon Des Sables (http://www.marathondessables.com/en/) starting on 9th April 2017 to raise money for two local charities, UpsnDowns (http://www.upsndowns.co.uk/) and The Travers Foundation (http://www.travers-foundation.org.uk/).
Myachievements so far include cycling 625k from Pretoria to Durban, cycling with a group of local lads from John O'Groats toLands End via Northamptonshire, completing a Half and Full Ironman, doing an unsupported 500-mile cycle ride to the centre of France and running the London Marathon. I have played Rugby for Northampton Saints and latterly at Kettering Rugby Club, where I was also their forwards and fitness coach for 10 years.
Please help me to raise as much money as possible for these two great charities,both of which are very important to me. I will put in the hours and hours of gruelling training and take on the challenge of the MDS if you will kindly make a donation.
Thank you for your support.
Bruce Donald
Details

Written by

Upsndowns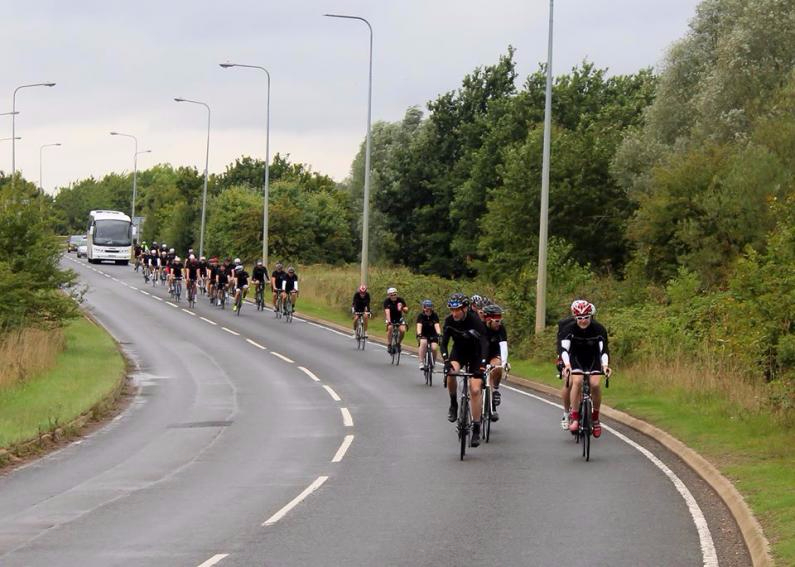 We are delighted to announce that Riding for Ups 'n' Downs III will take place in September 2017, following another highly successful ride in 2016 which raised over £10,000 for this worthy local cause.
There will be both 50 and 100 mile routes which will be announced later in the Spring and will start and finish at Earls Barton Cricket Club.
More details including how to register will follow shortly but, for now, we hope that you will put this date in your diary and join this great annual event.
Details

Written by

Upsndowns
Friday June 3rd sees the start of the latest fundraiser for Ups 'n' Downs as 21 cars full of intrepid fundraisers set off from Wellingborough in cars bought for just £500 or less…destination Venice!!
Over 50 individual supporters have volunteered to make the epic 2,500 mile round trip, most raising money individually as well as paying their entrance fee, all of which is very kindly being donated to Ups 'n' Downs.
The drivers will be departing at a ridiculously early 2.00am on the 3rd to reach Dover for the ferry after which they will be heading south-east across the whole of France and into the Black Forest for the first nights rest.
Day Two sees the rally head through the Swiss Alps and into Northern Italy for an evening of pizza and little vino rosso in Venice.
After a lie-in (ready for the off at about 9.00am) the group depart for Frankfurt via the Austrian Alps where they'll be enjoying a foot-long Bratwurst and a few hours rest before the final leg.
Day Four and it's homeward bound, via Luxembourg, Holland and Belgium before catching the Calais ferry and slugging their way back to sunny Northants for a well-earned real ale or two at The Red Lion in Cranford.
Anyone looking to support the team in their efforts can do so via the official Virgin Money Giving fundraising page here.